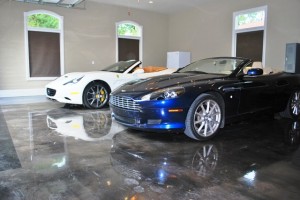 Kelowna Epoxy Floor Coatings 
 are a great, cost effective alternative to replacing or covering your concrete floors and beautifying your garage or basement to look better than brand new again.  It is one of the toughest and most durable finishes that you can apply to a garage floor.  Not only does it protect your floor, it can instantly transform your boring or ugly cement into a professional looking floor of beauty and function.  And since the garage is fast becoming more than just a place where you park the car, the benefits of garage floor epoxy have quickly made it one of the top choices for garage flooring today. Used for both residential and commercial applications, epoxy will give your garage or shop floor that showroom shine that says "look at me"!  Depending on which application you choose, you can select from a variety of understated solid colors and hues, to custom colors and blends of color flakes that match your style or even your favorite sports team.
BENEFITS OF A GARAGE FLOOR EPOXY COATING
So what makes an epoxy coating one of the best finishes for your garage floor?  Besides looking nice, the hardened and thick application that you get from epoxy creates a coating that is very durable and resilient to impacts, chipping, chemicals, stains, and surface abrasion.  You don't have to panic about damaging the floor if you drop a wrench or a bicycle falls over. The thicker coating also does a great job of covering over minor imperfections such as small spider cracks and flaws in the concrete.   Because epoxy is a topical sealer, it is also anti-dusting.  Much of the dust in a garage is created from the powder that a cement floor can shed.  Normal traffic on bare concrete can kick up this dusty powder that has a tendency of collecting on cars, tool benches, and storage items, as well as being tracked into the house. As a topical coating it is also naturally moisture resistant.  This is a great benefit for people who live in snowy climates.  It makes for easy cleaning of icy brines and road salts that can collect on the floor during the winter.  Just a little mild soap and water is all it takes.  Dust and debris can be collected with a dust mop or soft broom when the floor is dry. Depending on whether you added colored acrylic flakes to the floor and the type of topcoat used, some surfaces can be slippery when wet.  For people, like residents in the Okanagan, who live in drier climates this usually isn't an issue.  If you want some extra grip however, you can add slip resistant aggregate to the final coat that will create a non-skid surface.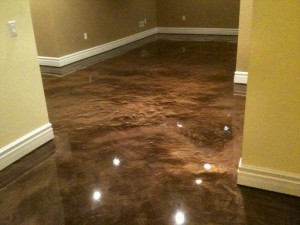 Epoxy coatings receive high reviews from home mechanics and hobbyists as well.  Since it is both chemical and stain resistant, oil, brake fluids, anti-freeze, gasoline, and other caustic car chemicals can easily be wiped up without worry – even if it sits for a while.  Rolling tool boxes, jacks, and jack stands will not damage the floor either.  It also brightens up the garage environment because it is very light reflective depending on what type of finish you choose. As tough as this type of garage floor covering is, it's not resistant to everything however.   Welding is hard on epoxy because it can create burn marks from the hot slag that falls on it.  It's also not a good choice for garage floors or even basements that have moisture issues.  The rate of moisture vapor transmission from underneath the slab can cause epoxy to delaminate if it is too high. A common question that pops up about epoxy garage floors is hot tire pick up.  This is caused when the hot tires from your car can soften lessor quality coatings.  The tires then cool down and contract after driving which causes the tire tread to literally grab and pull at the surface of the still soft coating.  This process will actually cause the epoxy to delaminate as the tire pulls it up off the floor. This is a problem that is associated more with the lesser quality products such as store bought epoxy paint kits.  These are usually water based coatings that are 50% solids at best and only 3 mils thick, as compared to 100% solids epoxy that is 10 mils or more thick.  This is found in quality commercial product or professionally installed coatings like the ones you receive from
Kelowna Concrete
. Because the thicker, multiple coat epoxy floors wear so well, warranties of up to 15 years or more for installation by professional installers is becoming common.  Many manufacturers of 100% solids epoxy warranty the product against defects for the life of the floor. Call 
Kelowna Concrete 
today for your FREE estimate!  250-448-6366