Despite stiff competition from wood decks, the concrete patio is gaining in popularity as an essential element in today's backyards. According to a survey conducted by the National Association of Home Builders in 2012, concrete is the most popular patio material in the country. In seven of nine geographical regions identified in the study, poured concrete is the most commonly used outdoor surface material in luxury-home construction coming in ahead of concrete pavers and natural stone. With more decorative options than ever before, concrete patios are attracting homeowners who want an outdoor surface that offers the ultimate in design versatility. Concrete patios also have the edge when it comes to durability and low maintenance.
In addition to serving as a gathering zone for lounging and entertaining, concrete patios allow homeowners to seamlessly blend interior and exterior living spaces. They are the perfect decorative flooring surface for outdoor kitchens and living rooms, complete with cozy seating areas, fireplaces and water features. What's more, this outdoor floor offers unlimited design options. When enhanced by stains and integral colors, concrete patios can be color coordinated to match a home's exterior or landscape. They can also be stamped or engraved in patterns that mimic other popular paving materials, such as brick, flagstone, slate and tile.

As an investment, concrete patios typically cost less than patios made of brick or natural stone because they are less labor-intensive to install. The lower price tag combined with the wide array of patterns and colors available make concrete an economical choice for most budgets. Plus, concrete is easily formed into any shape to accommodate backyard space restrictions.

Upgrading your backyard with a decorative concrete patio is also an investment that will provide many years of enjoyment while improving the look of your landscape. Concrete is easy to maintain and can stand up to the harshest of weather conditions. Unlike paving stones, you won't have joints between units where grass and weeds can sprout. And unlike wood, concrete won't warp, rot or require periodic staining.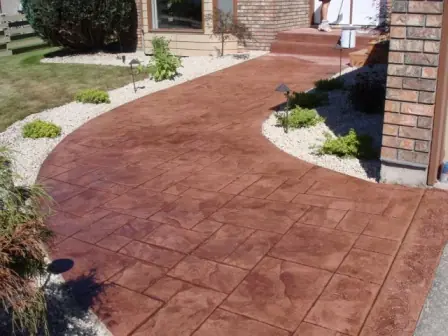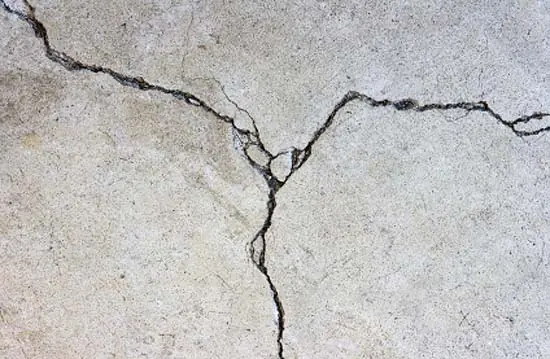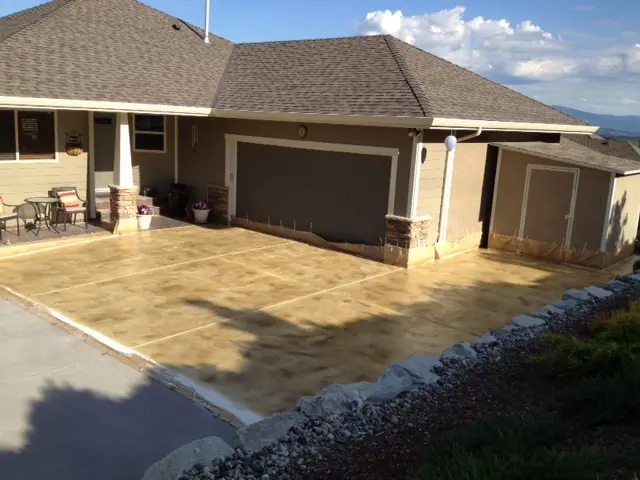 It wasn't long ago when deciding on a driveway material was easy: asphalt or concrete. Today, the "concrete" choice has expanded to include an astounding array of decorative options. Sometimes referred to as a cement driveway or as painted concrete, decorative concrete is one of the most reasonable ways to spruce up the entrance to your home.
Although plain gray concrete is still installed most often, more people are catching on to the dazzling effects possible with decorative concrete-and seeing the instant curb appeal a decorative driveway can give to any home, no matter what the style..
Of course, to ensure that your concrete driveway will look good for many years to come, there are important steps your driveway contractor should follow during installation. How well your driveway looks and performs long-term is largely related to the quality of workmanship and materials that go into it, and that's why Kelowna Concrete is here to help.
Once you become the proud owner of a concrete driveway, it won't take much effort on your part to keep it looking its best for many years to come.
Finally, if you're concerned about the environment, concrete is one of the "greenest" materials you can use to build a driveway.
One of the biggest trends in outdoor design today is a decorative concrete pool deck, a colored, textured and inviting area surrounding the pool that does more than provide a safe, slip-resistant deck for sunbathing and barbecuing. Inground pool decks are now given nearly as much attention as the interior design of the home.
Decorative concrete has opened the doors to creating pool decks that complement the exterior of the home, meld with the outdoor environment, and replicate exotic and traditionally expensive materials such as slate, stone or even wood.
Sometimes referred to as cement pool decks, the choices available for designing a truly unique, functional, and affordable pool deck are at your fingertips.
The benefits of concrete are many. It can provide an extremely durable surface, as compared to a wooden deck or even stone. With the new techniques for stamping and applying decorative concrete, any look can be created at a fraction of the cost.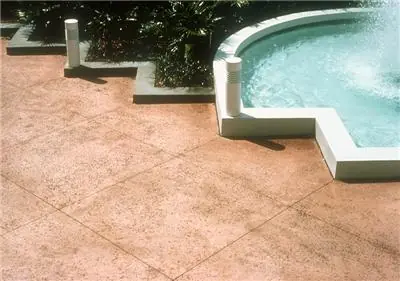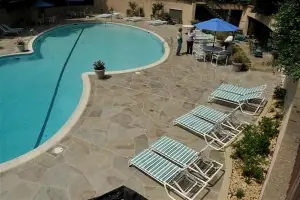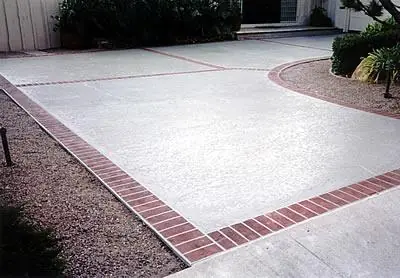 Concrete walkways or sidewalks are more than just a way to get wherever it is you're going—they can provide much-needed curb appeal to homes and buildings, and they are fast becoming a point of artistic expression by way of a multitude of decorative concrete options.
While plain gray concrete is still the most often surface installed, as seen on most concrete sidewalks, there are numerous decorative concrete alternatives sure to dress it up, taking your sidewalk from boring to amazing.
The best part is that most of the options will work just as well on an existing walkway, because the concrete industry has rapidly developed many decorative products that can be applied to existing plain concrete walkways.
Concrete has become the new material of choice for designers across North America.  Decorative concrete in all of its stained, colored, molded and personalized glory is popping up in retail stores, trendy restaurants, offices and homes everywhere. Now you can find out why!
Call Kelowna Concrete today 250-448-6366.  Estimates are FREE and we are always here to help answer any questions you may have.